Crane Season
Plan Your Trip
Tips to help you maximize your visit.
Rowe Sanctuary will begin accepting reservations for its 2023 crane viewing opportunities on Wednesday, January 4 at 9:00 am CST. Reservations may be made online or by calling 308-468-5282.
Spring Migration
Every March, over a million Sandhill Cranes converge on the Platte River Valley in central Nebraska to fuel up before continuing north to their nesting grounds. Audubon's Rowe Sanctuary is at the heart of this magnificent crane staging area.
Sandhill Cranes typically begin arriving around Valentine's Day and leave around Tax Day. Our top priority is keeping the cranes and the crane watchers safe. We encourage you to use the information we have given you to plan ahead and we encourage you enjoy the journey and embrace whatever viewing spectacle occurs during your trip.
Extended visitor center hours typical begin February 15 and go through April 15. Iain Nicolson Audubon Center at Rowe Sanctuary will be open daily, 9:00 am - 5:00 pm during crane season.
Travel and Airport choices
Omaha, Lincoln, Grand Island and Kearney. Check with your booking agent.
Kearney: Denver Air Connect has 12 weekly flights to Kearney, and interline agreements with United and American. Rental car options are Thrifty (call ahead) and Enterprise, that will pick up at the airport from 8:00 am – 5:00 pm Monday-Friday.
When to arrive
Depending on what you are hoping to see will determine when the best time is to visit. The largest concentration of Sandhill Cranes occurs within the last two weeks of March and the first week of April.
Early March will usually give a person more of a mix of waterfowl and cranes on the river, along with bald eagles which tend to follow the waterfowl migration.

The end of March is also when we have the largest number of crane watchers.

Early April is often overlooked, but this time period can often provide some of the best viewing as the birds are fat and happy and it's often apparent in their behavior.

Early to mid-April is also the best time to try and catch a glimpse of Whooping Cranes as they migrate through the state.
Best Viewing Times
We choose the dates and times we offer guided tours selectively, providing tours only during the time that has the potential to be the "best viewing."
Many visitors believe that the "best" Sandhill Crane viewing always occurs when the maximum or peak number of Sandhill cranes are in the Platte River valley, but in reality, that's not always the case.

Best viewing often varies person-to-person.

There are many variables to determine the best time FOR YOU to have the best possible experience.
Click here for expected sunrise and sunset times in March and April 2023.
We have strategically chosen the location of all our discovery stations using historical data and the patterns that emerge season to season. Each discovery station location is positioned in such a way to provide the best chances for spectacular viewing.
Remember, these are WILD birds and humans do not control them. Rowe Sanctuary staff reserves the right to make changes to limit the human impact on the Crane migration.
Other important variables to consider include:
Crane Behavior, number of cranes in the valley, number of cranes on Rowe Sanctuary, the weather here, and the weather where they are coming from,

Human variables include: your location in relation to the cranes, your guide.
Rowe Sanctuary offers multiple guided viewing experiences at sunrise and sunset to view the spectacular concentrations of Sandhill Cranes on their river roosts from new discovery stations strategically placed along the Platte River close to Sandhill Crane roosts. All viewing opportunities that occur at Rowe Sanctuary while the Sandhill Cranes are actively roosting on the river is limited to the guided tours. There is absolutely no unguided viewing from the trails allowed.
Rowe Sanctuary Trails
Crane Season: March and April
During Crane Season, some Rowe trails will have limited access to protect the birds from disturbance while on the roost.
Open trails will only be available from the time that the cranes leave the river in the morning (usually around 10:00 am) until 4:00 pm. Trails will be clearly marked as to whether they are open or closed. The Iain Nicolson Audubon Center is open from 9:00 am to 5:00 pm. During Crane Season access to the grounds is restricted outside of these times.
Outside of Crane Season, Rowe's trails and parking lot are open from dawn to dusk every day.
Do I need reservations to see the Sandhill Canes?
Reservations may be made online or by calling 308-468-5282 – we strongly recommend booking online. If you are interested in our guided tours, we do recommend that you pre-book your viewing experience as soon as possible. Much of our viewing opportunities will sell out.
We encourage you to use the information we have given you to guide your decisions. Remember everyone has their own personal crane viewing experience.
Where to stay
Rowe Sanctuary is approximately 20 miles east of Kearney via Interstate 80. Kearney has a good selection of hotels/motels to choose from. The Kearney Visitors Bureau has additional listings for lodging and restaurants. Kearney can be a very busy community during March, so reserve your lodging as soon as possible. Grand Island, Hastings, and Minden are also nearby.
What to bring
Everyone is encouraged to wear a dark colored facemask in 2023. The other most important thing is to make sure that you have enough warm clothing. March can bring temperatures from the teens to the 70s, so pack clothing that can be layered and removed when temperatures rise. We encourage dark colored outer wear for the tours. And don't forget cameras, binoculars, and other photography aids. For more on what to bring, see our Guided Crane Viewing Experience page.
What else can I see and do while I'm there?
In terms of wildlife viewing, witnessing the displays of prairie grouse (Greater Prairie-Chickens and Sharp-tailed Grouse) is the next most sought-after experience during late March and April. Prairie Chicken Dance Tours near McCook provide memorable viewing opportunities. Kearney area attractions include Cabela's and The Archway.  We also recommend a self-guided driving tour map with multiple site locations from the Kearney Visitors Bureau.
Additional info
We provide multiple viewing opportunities for nature enthusiasts, bird lovers, and photographers to witness this historic migration.
For all things Crane, we recommend https://nebraskaflyway.com/ This website provides valuable regional info including information about other organizations, outfitters, and public viewing locations all in one spot.
Enjoy the cranes from the comfort and warmth of your own home with the interactive virtual crane tour or on our FREE Crane Cam!
We recommend checking the Kearney Visitor's Bureau website when planning your trip. They have suggested itineraries – no matter your traveling style – as well as up to date information on important travel info like lodging, where to eat, and other things to do between your crane watching activities.
How you can help, right now
Become a Volunteer
Volunteers are critical to the operations at the Iain Nicolson Audubon Center at Rowe Sanctuary. Take a look at our volunteer opportunities and consider joining this incredible team.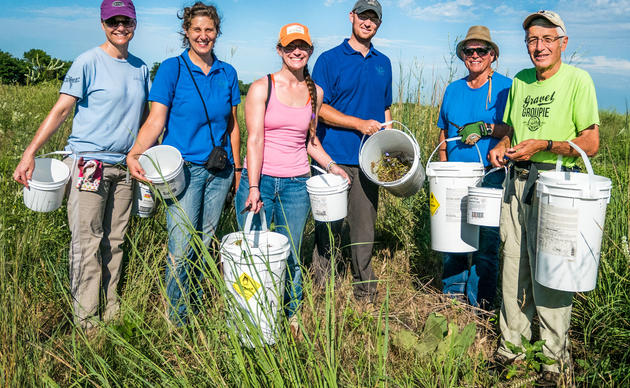 Make a Gift Today
Your generous support helps to ensure that Sandhill Cranes and other wildlife that depend on the Platte River will have this wonderful resource for years to come.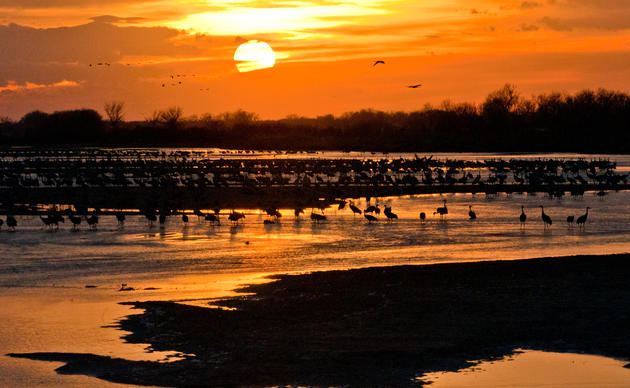 Rowe Sanctuary's Online Gift Shop
Our gift shop has a wide variety of items and your purchase supports our conservation efforts along the Platte River in south-central Nebraska.