Crane Season
Plan Your Trip
Tips to help you maximize your visit.
Use our on-line registration to select your activities. Reservations open at 9 a.m. CT on January 5, 2022.
Air Travel to Kearney, NE: The Kearney Regional Airport offers daily flights to and from Denver and Chicago. The airport is only 16 miles from Rowe Sanctuary.
Where do I stay? - Rowe Sanctuary is approximately 20 miles east of Kearney via Interstate 80. Kearney has a good selection of hotels/motels to choose from:
Best Western Plus
Holiday Inn
Microtel Inn & Suites
The Kearney Visitors Bureau has additional listings for lodging and restaurants.
Kearney can be a very busy community during March, so reserve your lodging as soon as possible. Grand Island, Hastings, and Minden (Burchell's White Hill Farmhouse Inn) are nearby cities to also check out.
When do I want to be there? - Depending on what you are hoping to see will determine when the best time is to visit. The largest concentration of Sandhill Cranes occurs within the last two weeks of March and the first week of April. Not surprisingly, this is also when the largest number of crane watchers are in the area. Early March brings more of a mix of waterfowl and cranes on the river, along with Bald Eagles that tend to follow the waterfowl migration. Early April is often overlooked, but this time period can often provide some of the best viewing as the birds are fat and happy, and it's often apparent in their behavior. Early to mid April is also the best time to try and catch a glimpse of Whooping Cranes as they migrate through the state, and this is also the peak time for prairie chicken/grouse activity on their booming grounds (leks). Feel free to contact us with any questions, especially when it comes to the timing of your trip.
What do I bring? - Everyone is required to wear a dark colored facemask in 2022. The other most important thing is to make sure that you have enough warm clothing. March can bring temperatures from the teens to the 70s, so pack clothing that can be layered and removed when temperatures rise. (We also encourage dark colored outer wear for the tours and dark colored masks are required.) And don't forget cameras, binocualrs, tripods, and other photography aids. For more on what to bring, see our General Crane Tours page.
What else can I see while I'm there? - In terms of wildlife viewing, witnessing the displays of prairie grouse (Greater Prairie-Chickens and Sharp-tailed Grouse) is the next most sought after experience during late March and April. Prairie Chicken Dance Tours near McCook provide memorable viewing opportunities. Kearney area attractions include Cabela's and The Archway.
How you can help, right now
Become a Volunteer
Volunteers are critical to the operations at the Iain Nicolson Audubon Center at Rowe Sanctuary. Take a look at our volunteer opportunities and consider joining this incredible team.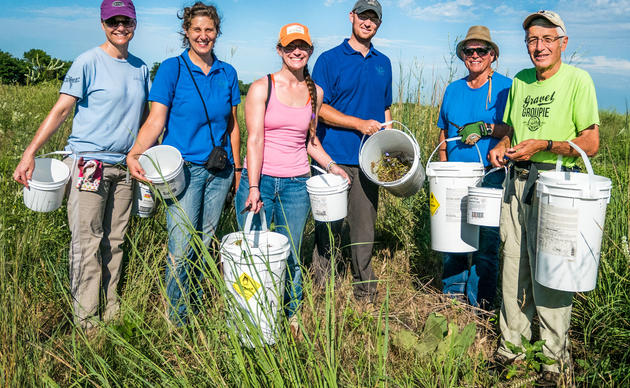 Make a Gift Today
Your generous support helps to ensure that Sandhill Cranes and other wildlife that depend on the Platte River will have this wonderful resource for years to come.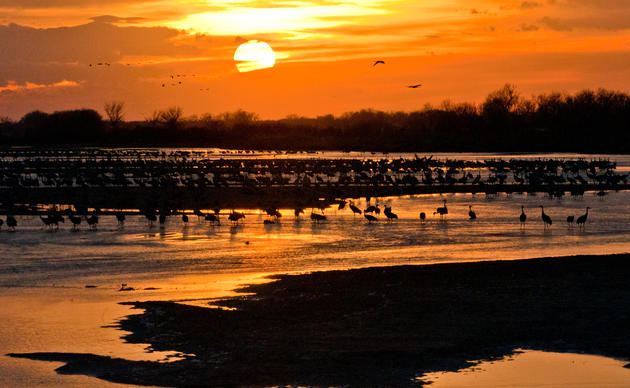 Rowe Sanctuary's Online Gift Shop
Our gift shop has a wide variety of items and your purchase supports our conservation efforts along the Platte River in south-central Nebraska.