Birds
Birds of Rowe Sanctuary
Sandhill Cranes are what we are known for, but you can finds lots of other species of birds on Rowe Sanctuary throughout the year. Below is a sample of what you can see on the sanctuary and the surrounding area, including our priority bird species.
Priority Bird Species
Rowe Sanctuary's priority bird species are birds of significant conservation need, for which our targeted management actions can lead to improvement in status. Each of these species has been identified by Audubon and one or more of our conservation partners as declining or vulnerable to decline on or within the region of the Central Platte River. These species also represent each of the major habitat types present on the Sanctuary and can serve as indicators of the effectiveness of our conservation efforts.
Our priority species at present are (in alphabetical order) Bell's Vireo, Bobolink, Dickcissel, Grasshopper Sparrow, Interior Least Tern, Piping Plover, Sandhill Crane, Upland Sandpiper and Whooping Crane. Two species that we hope will utilize the habitat at Rowe Sanctuary in the future are Greater Prairie-Chicken and Henslow's Sparrow. For more information on these species, click on the Bird Cards below.
How you can help, right now
Become a Volunteer
Volunteers are critical to the operations at the Iain Nicolson Audubon Center at Rowe Sanctuary. Take a look at our volunteer opportunities and consider joining this incredible team.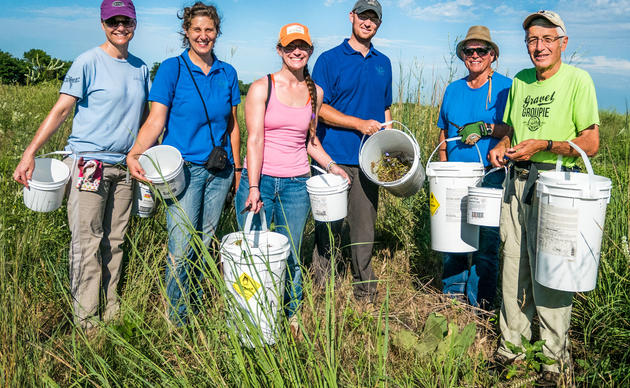 Make a Gift Today
Your generous support helps to ensure that Sandhill Cranes and other wildlife that depend on the Platte River will have this wonderful resource for years to come.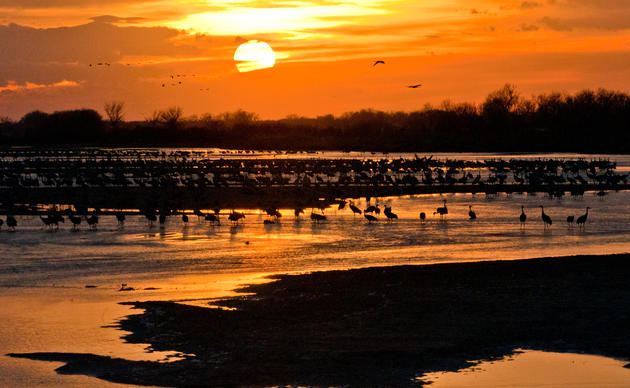 Rowe Sanctuary's Online Gift Shop
Our gift shop has a wide variety of items and your purchase supports our conservation efforts along the Platte River in south-central Nebraska.