Planned Giving
Information about Planned Giving
What is a planned gift?
A planned gift offers our donors simple and flexible options for combining philanthropy and financial planning. In fact, by making a planned gift to Rowe Sanctuary you may be able to contribute more to conservation than you thought possible, while also receiving favorable financial and/or tax benefits.
What types of gift plans are offered by Audubon?
Audubon offers several tax-advantaged gift plans including:
Charitable Remainder Trusts
Gift Annuities
Pooled Income Funds; and
Bequests (naming Rowe Sanctuary in your Will or as the beneficiary to your retirement account)
Charitable Remainder Trust
You can donate cash, stocks or debt-free real estate. Gift assets are invested to earn income which is paid to donors (and spouse) for life. You get an immediate income tax deduction, and avoid all capital gains taxes on gifts of stock and real estate. The special feature of the Charitable Remainder Trust is that the donor selects the payout rate. (Minimums: no age minimum, $100,000)
Gift Annuities
A gift annuity is a contract in which Audubon agrees to pay you (and your spouse) guaranteed income for life in exchange for your gift of cash or stocks. Your income will never change and will be partially tax-free. Your annuity will be based on your age at the time you make your gift. The older you are, the higher the income. You will receive an immediate income tax deduction and avoid some capital gains tax on gifts of stock. (Minimums: age 65, $10,000)
Deferred Payment Annuity
A deferred payment annuity is like the charitable gift annuity described above, except that the start of payments is deferred until a mutually-agreed upon date in the future (generally 5-10 years). In exchange for deferring payments, you would receive a higher payout rate and a larger immediate income tax deduction than you would receive with an immediate payment annuity. Deferred payment annuities are great for professionals who have fully funded retirement plans and want to add to their retirement savings and receive immediate tax savings. (Minimums: age 65, $10,000)
Pooled Income Fund
If you donate cash or stocks to Audubon's Pooled Income Fund, your gift will be invested in a common portfolio (with the other donors to this fund) to earn income. All the income earned by the Fund is paid to participants for their lifetimes. The Fund is currently paying about 5%. Income varies with overall market conditions, so your income may increase over the years. Donors get an immediate income tax deduction and avoid all capital gains taxes on gifts of stock. (Minimums: age 65, $10,000)
Bequests
When you name Audubon in your will, you may indicate that Rowe Sanctuary be the beneficiary to ensure that your gift benefits Rowe Sanctuary.
The following language may be helpful to your attorney:
"I bequeath to the National Audubon Society, Inc., a not-for-profit corporation chartered under the laws of New York State, with its principal office located at 225 Varick St., New York, NY 10014, the sum of $________ (or ____% of my residuary estate) to be applied to Rowe Sanctuary."
How can I include Audubon in my Will?
Audubon urges you to have your will prepared by an attorney who is knowledgeable in estate planning and who is familiar with the laws of the state you reside in. If your will is already prepared, you probably will not have to rewrite the document to include Audubon. Your attorney may be able to simply add an amendment (called a "codicil").
How can I learn more about making a Planned Gift to Rowe Sanctuary?
You can receive a personalized illustration from Audubon showing the income you would earn and the tax savings you would receive by making a planned gift to Rowe Sanctuary. All information is kept completely confidential and there is no commitment to give by requesting an illustration.
To request a personal illustration please contact:
Shari Kolding
Gift Planning Officer
510 S Congress Ave, Ste 102
Austin, TX 78704
512-236-9076
You can also send a written request to:
Rowe Sanctuary
Attn: Bill Taddicken
44450 Elm Island Rd.
Gibbon, NE 68840
How you can help, right now
Become a Volunteer
Volunteers are critical to the operations at the Iain Nicolson Audubon Center at Rowe Sanctuary. Take a look at our volunteer opportunities and consider joining this incredible team.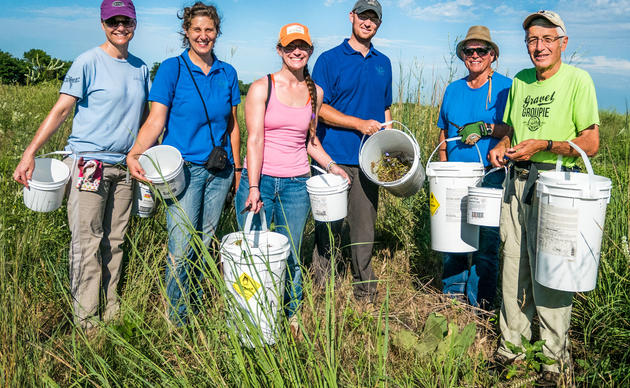 Make a Gift Today
Your generous support helps to ensure that Sandhill Cranes and other wildlife that depend on the Platte River will have this wonderful resource for years to come.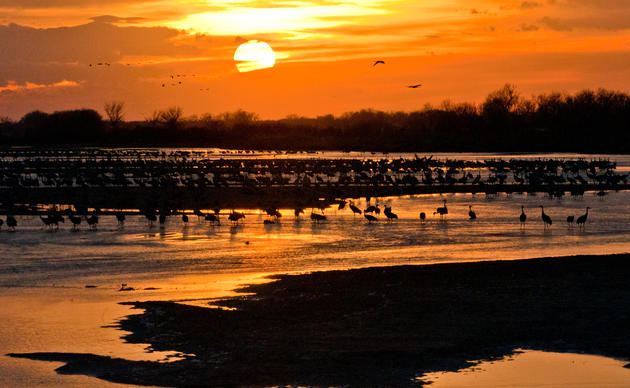 Rowe Sanctuary's Online Gift Shop
Our gift shop has a wide variety of items and your purchase supports our conservation efforts along the Platte River in south-central Nebraska.