Visit
Crane Viewing
Sandhill Crane viewing at Rowe Sanctuary.
General Crane Tours
Rowe Sanctuary's viewing blinds are strategically placed along the Platte River to provide excellent views of the Sandhill Cranes while they are on their river roost. Viewings are scheduled daily during March and early April (see dates & times below), last approximately two hours and are led by trained guides. Walking distances to the viewing blinds range from 1/4 to 1/2 mile over relatively level terrain, with a portion of the walk occurring during very low light conditions (well before sunrise & well after sunset). Our viewing blinds are wooden structures with carpeted floors that hold up to 32 people. They offer shelter from wind, rain, and snow, but are not heated and will be as cold as or colder than it is outside.
To help determine when you should visit, please review our 'Plan Your Trip' page before making a reservation. If you would like to bring children or a member of your party has ambulatory issues, please contact us at 308-468-5282 for options.
Overnight Photography Blinds March 18 - April 8 Fee: $225/night
For a more intimate experience, Rowe Sanctuary has overnight photo blinds set up near major crane roost sites on the river. Reservations for this experience must be made by phone at 308-468-5282. Click here for more information.
New! Evening Only Photographers Crane Tour March 18 - April 8 Fee: $60/person
This tour is designed for photographers and allows the use of tripods and continuous shooting mode which are not allowed on the general crane viewing tours. Reservations will be limited on each tour to allow more room in the blind for each participant. Participants will drive their own vehicle and must be able to carry their own gear up to 700 yards. Reservations for this tour must be made by phone at 308-468-5282. Tour start time is at 5:00 PM.
Crane Behavior Basics March 12 - April 9 4:30 p.m. - 5:00 p.m.
Want to make your crane viewing experience more enjoyable? Join us in this fun interactive class. You will be introduced to several crane behaviors easily observed in the fields and viewing blinds. You will also learn about crane biology, the Central Flyway, and Platte River conservation. Call 308-468-5282 to make reservations. This program is not suitable for children under 12 years of age. Cost is $5.00 per person.

To Make a Reservation for General Crane Tours:
Please review the information below prior to making a reservation. Reservations can be made starting at 9 a.m. CST, January 3, 2017, by calling 308-468-5282 between 9 a.m. and 5 p.m. CST, Monday - Friday or online at reservations.rowesanctuary.org.
For a printable brochure, click here.
Dates for 2017:
March 4 - April 9
Fees (sales tax not included):
March 4 - 16: $25.00/person/tour
March 17 - April 2 (Peak Season): $35.00/person/tour
April 3 - April 9: $25.00/person/tour
Pre-payment is required and can be done with Visa or MasterCard.
Note: Cancellations are refundable up to 7 days prior to your trip, but are subject to a 5% charge on your purchase total.
Crane Viewing Tour Start Times: (Note change in start times due to Daylight Savings Time)
5:00 a.m. & 5 p.m. March 4 - March 11
6:00 a.m. & 6 p.m. March 12 - April 9
Where to Meet:
All tours start at the Iain Nicolson Audubon Center. Directions: Take I-80 Exit 285 (Gibbon exit) and drive south two miles to Elm Island Road, turn west (right) onto Elm Island Road and travel two miles to the Iain Nicolson Audubon Center parking lot entrance located on the north side of the road.
Drive time from south Kearney to the Iain Nicolson Audubon Center is approximately 20-25 minutes. If you are staying in Grand Island, drive time is approximately 45-50 minutes.
Map
N 40° 40.178
W 98° 53.088
March and April can be very cold and you will be standing in an unheated blind for about two hours, so dress appropriately. It is better to wear too much than not enough!
What to Wear:
The warmest coat and clothing you have, including long underwear
The warmest boots you have, along with wool or synthetic socks (avoid cotton)
Very warm mittens or gloves
Stocking cap or insulated hat
Please wear dark clothing as this helps us to blend in with our surroundings when walking to and from the blinds
What to Bring:
Binoculars
Camera (NO FLASHES) &/or video camera - See 'Photography Policy' below
Warm drinks & snacks (chemical toilets are outside each blind)
Flashlights or NOT allowed
Photography Policy
Cameras and other recording devices are welcome in our viewing blinds, provided they do not place the cranes at risk or detract from the experience for others. Below are rules/guidelines for photography and recording in the general viewing blinds:
Rowe Sanctuary reserves the right to ban use of any device determined to be a nuisance.
No flash allowed. All flashes and focusing lights on cameras must be covered with black plastic tape before arriving for the tour.
Continuous mode or rapid fire photography is not allowed.
Tripods will no longer be allowed in the viewing blinds due to space issues and tripping hazards. Monopods will be allowed.
The use of cameras and any other recording devices will be allowed in the viewing blinds ONLY when there is enough light to prevent disturbance to cranes. This will prevent illumination from LCD screens in the blinds from spooking cranes roosting on the river and from diminishing the viewing experience for all visitors in the viewing blinds. Otherwise, all cameras and recording devices must be stored during the tour.
Tablets (i.e. - Ipads, etc.) are not allowed.
If you have a large lens, it cannot extend outside of the window. This applies to everything else as well (i.e. - hands, face, binoculars, etc.).
If you plan to use your camera phone, you must change your settings to Airplane Mode and silent while on the tour.
How you can help, right now
Become a Volunteer
Volunteers are critical to the operations at the Iain Nicolson Audubon Center at Rowe Sanctuary. Take a look at our volunteer opportunities and consider joining this incredible team.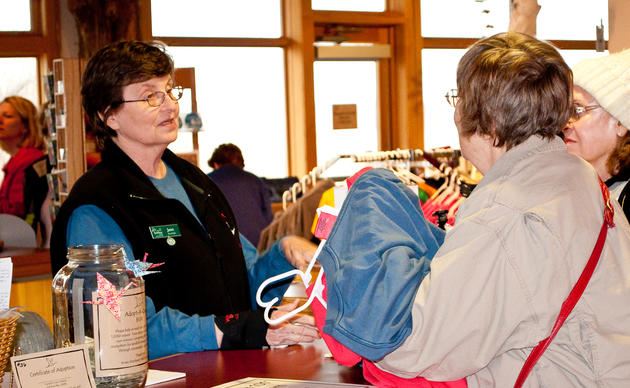 Make a Gift Today
Your generous support helps to ensure that Sandhill Cranes and other wildlife that depend on the Platte River will have this wonderful resource for years to come.
Rowe Sanctuary's Online Gift Shop
Our gift shop has a wide variety of items and your purchase supports our conservation efforts along the Platte River in south-central Nebraska.