Crane Carnival
Saturday, March 16 - 10:00 am-2:00 pm
$5/person, $10/family. Reservations not required.
Come out for the twelfth annual Family Crane Carnival, a one-of-a-kind event for all ages with an emphasis on fun and learning. This is a great opportunity to learn about cranes. Enjoy hands-on activities, touchable exhibits, face painting, and much more. Don't forget to bring your camera and have your picture taken at the famous Sandhill Crane Photo Board!
Crane Behavior Basics
March 1-March 9 - 3:30 pm daily
March 10-April 7 - 4:30 pm daily
$10/person; tickets available online.
This 45-minute class offers a look into the common behaviors of Sandhill Cranes and how they utilize sound and body language to communicate with one another. Participants will learn to recognize some of the most common behaviors and what they mean.
Habitat Tours
March 1-April 7 - 1:30-3:00 pm every Friday, Saturday & Sunday
Space is limited; $10/person; tickets available on-line or call 308-468-5282.
Enjoy a hayrack ride around Audubon's Rowe Sanctuary with a knowledgeable guide to learn more about conservation efforts on the Platte River. Please dress appropriately for possible cold weather.
Wednesday Nights Family Nights
Price: $10/person, children 4 and under are free
Start times: (Note change in start times due to Daylight Saving Time)
5:00 p.m. - March 6
6:00 p.m. - March 13, 20, 27, and April 3
Families can enjoy a special night of crane viewing from inside the Iain Nicolson Audubon Visitor Center on Wednesdays during crane season. This new and exciting program will include special kid-friendly activities for kids of all ages, such as coloring pages, interactive games, crafts, etc., to enjoy as families wait for Sandhill Cranes to begin arriving on the river. As the sun sets, families can then enjoy viewing the cranes from the comfort of the center. This experience generally lasts 2-3 hours.
Speaker Series (at both Rowe Sanctuary and Kearney Public Library)
Saturday, March 2 – 10:00 a.m. at Rowe Sanctuary - "Whooping Cranes, Interior Least Terns, and Piping Plovers: A Conversation about Nebraska's Three Most Imperiled Birds." Mary Bomberger Brown, Tern and Plover Conservation Partnership.
Thursday, March 7 – 6:00 p.m. at the Kearney Public Library - "Past, Present, and Future Water Projects for the Platte River Recovery Implementation Program." Justin Brei, Headwaters Corporation.
Saturday, March 9 – 10:00 a.m. at Rowe Sanctuary - "Central Flyway Spring Migration in the Rainwater Basin Wetland Management District." Brad Krohn, U.S. Fish and Wildlife Service.
Thursday, March 14 – 6:00 p.m. at the Frank Museum - "Frank Conversation: Renewable Energy in Nebraska." Will Stoutamire, Frank Museum, who will talk about the Kearney Hydro plant; Stanley Clouse, Kearney Mayor, who will talk about the solar array in town; and Lu Nelson, Center for Rural Affairs, who will talk about the current state of wind energy and some history of development in the state of Nebraska.
Thursday, March 21 – 6:00 p.m. at the Kearney Public Library - "Bird is the Word." Jason St. Sauver, Audubon Nebraska Director of Education & Outreach.
Saturday, March 23 – 10:00 a.m. at Rowe Sanctuary - "Sandhill Crane Collisions with Power Lines Reduced with Ultraviolet Light." James Dwyer, EDM International, Inc.
Thursday, March 28 – 6:00 p.m. at the Kearney Public Library - "Eye to Eye with Insects." Jonathan Nikkila, author of Bugs in My Backyard and Rowe Sanctuary board member.
Saturday, March 30 – 10:00 a.m. at Rowe Sanctuary - "Beyond Boundaries: Bird Conservation from Cities to Ranches." Kristal Stoner, Audubon Nebraska Executive Director.
Saturday, April 6 – 10:00 a.m. at Rowe Sanctuary - "Photographing Birds Using the Camera on Your Cell Phone." Don Brockmeier, photographer and long-time Rowe Sanctuary volunteer.
Off-site Programming & Events for 2019
Audubon's Nebraska Crane Festival - March 21-24
The Crane Festival brings together hundreds of crane lovers from around the country to Kearney, Nebraska, to interact with a wide range of environmental speakers, take part in incredible birding trips, and experience the world's largest gathering of Sandhill Cranes!
Visit http://ne.audubon.org/birds/crane-festival.
How you can help, right now
Become a Volunteer
Volunteers are critical to the operations at the Iain Nicolson Audubon Center at Rowe Sanctuary. Take a look at our volunteer opportunities and consider joining this incredible team.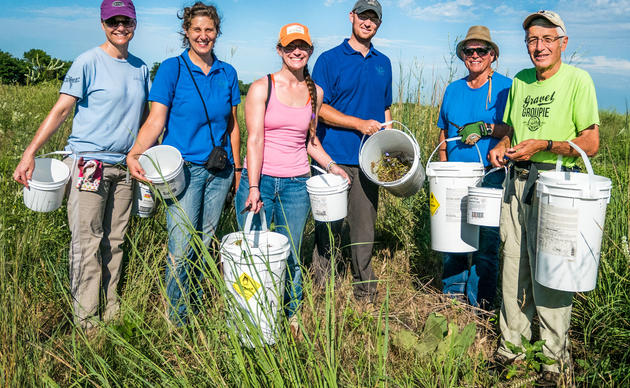 Make a Gift Today
Your generous support helps to ensure that Sandhill Cranes and other wildlife that depend on the Platte River will have this wonderful resource for years to come.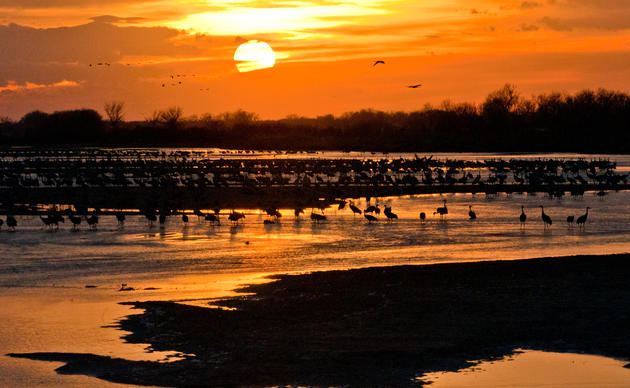 Rowe Sanctuary's Online Gift Shop
Our gift shop has a wide variety of items and your purchase supports our conservation efforts along the Platte River in south-central Nebraska.